Sometimes we see a stunning new style of ring, and because we're caught up in the sparkling moment, it takes us a few seconds before we realize that the style isn't actually new at all  (Note the Victorian era is 150 years old, not hundreds so it's misleading).
The Victorian era often conjures up images of gas-lit streets with horse drawn carriages, romantic prose, and idyllic paintings of English gardens. One of the most lasting things from this by-gone era of the British Empire are the rings developed under the reign of Queen Victoria from 1837-1901, featuring gorgeous scrollwork and design flourishes.  Many even had halos.  In fact, they aren't too different from modern rings.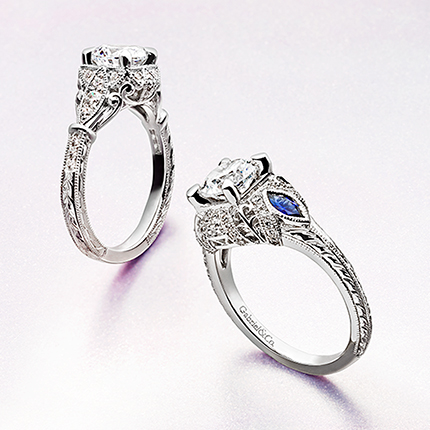 There are so many sweet meanings behind many of the engraved design elements in the rings from this era. Laurels were a statement of peace and promise against divorce. Stylized oak leaves in an engagement ring meant the bride and groom had a strong relationship. Ivy meant that the couple had a strong devotion to one another to a point of being clingy. Doves, which are rare now, meant for love and fidelity.
The diamond's beloved status hasn't changed much since the Victorian days. Having a diamond meant having the best of everything.  Even the Romans used diamonds, except they favored stones were uncut in their gold rings. Diamonds were even more rare back then. The desire was always there, but it was the demand that often couldn't be met. What changed for the Victorians was the stone's accessibility. When diamond mines opened up in Africa, diamonds began to appear in many more engagement rings. These did not exhibit the round cut brilliant diamonds or gemstones commonly seen today. The old mine cut or the European cut were popular and although the faceting isn't the same as a modern brilliant cut, they have an originality and charm all their own. Such diamonds easily fit into the modern settings.
How to Bring a Victorian Touch to a Modern Piece?
If you want to do something in keeping with the time period, try having your jeweler engrave the initials A E I into your band. The A E I stands for "Amity, Eternity and Infinity" which was one of the popular ways of symbolizing eternal love at the time.
Create a group of stackable rings whose stone names spell out a message. Called Acrostics, this secret use of language was common in the Victorian jewelry.  Get creative and come up with your own combination.  For example, if you wanted to spell out the word "REGARD" stack your rings in this order:  Ruby-Emerald-Garnet-Amethyst-Ruby-Diamond.  For the word "DEAR "stack this quartet of rings:  Diamond-Emerald –Amethyst-Ruby