---
Are you getting ready to propose but not sure how to make it something special? Planning a great proposal doesn't have to be that hard or stressful!  First of all, if you are deeply, madly and truly in love, no matter what you do that love will shine through. However, it's easy to avoid the rose petal and votive candle clichés while still doing something super romantic. Here are a few ideas that you can customize to create either a personal, at home proposal or a jaw-dropping, show-stopping public proposal ready to post on YouTube. These are ideas designed for any budget and you can purchase all the necessary items or create them yourself if you have that can-do DIY spirit. The best part is that they are guaranteed to make for an unforgettable moment that will be talked about among family or friends for years to come!
---
The Marry Me Kite Proposal: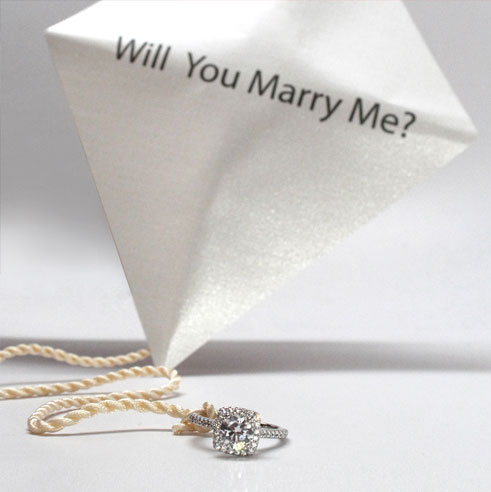 Pop the question by taking to the skies! There is nothing more innocent and joyous than watching a kite soar. You and your sweetheart will be holding hands while you real him or her into your future together.
Whether you've taken a trip to a tropical island or a drive to the nearby park, a kite is easy to pack and conceal. You can even contact some local kite flying associations if you want a fancy one or purchase one custom made for proposals from independent artist like Uplift Artisan Studios. That's right – They specifically make kites just for proposals.
---
The Local Bakery Proposal:

Could this indelible moment really be as simple as having a cake or baked goods made with Will You Marry Me written on it?  You can serve up a magical proposal at a private dinner for two or at a big party this way – weddings begin with a cake, so why not an engagement? Almost any bakery you choose can take both your favorite flavors and mix them together in a cake or a batch of cookies. If you want to be sneaky about it, try playing Google detective or checking out your intended's Pinterest page. Don't be afraid to incorporate one of your inside jokes or something purely unique to your relationship. Asking with a reveal cake or cookies can be fun especially when surprising everyone at a family gathering by offering a delicious 'I Do.'
---
The Lucky Penny Proposal:

There is nothing more romantic than passing someone a surprise keepsake that they can hold onto for a lifetime. You know those coins that wind up in the take-a-penny, leave-a-penny tray?  Well, they can carry such a sweet secret message. Find one with the year you fell in love or for the date you plan to get married. We recommend pretending to find it on the ground and getting down on one knee. Another way is to simply put it in your lover's hand while telling them all that you love about them. You can buy pennies and coins like this created by craftsman for less than $10 online and at artsy boutiques all across the USA, or you can make it yourself.
---