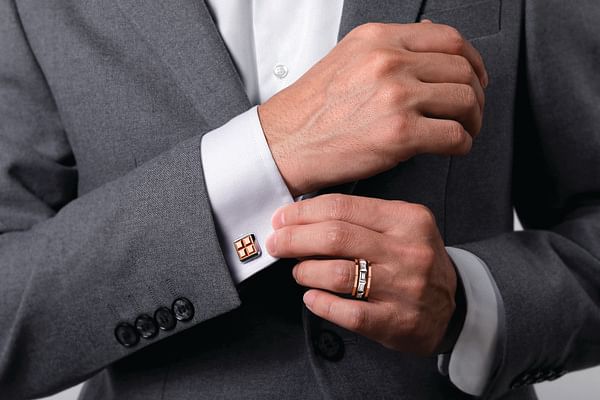 $595-$4,250
925 Sterling Silver Square Cufflinks with 14K Rose Gold Squares
14K White and Rose Gold Faceted Ring with Diamond Baguettes
Shop the collection
(2 items)
925 Sterling Silver Square Cufflinks with 14K Rose Gold Squares
$ 595
Complete your look with these mixed metal cufflinks. Crafted from 925 sterling silver in a sharp square silhouette, they feature a quartet of contrasting 14K rose gold cubes at the center. Let your own unique style shine with these fine cufflinks.
14K White and Rose Gold Faceted Ring with Diamond Baguettes
$ 4,250
Brilliant 0.48ct baguette diamonds are positioned around the center of this two-tone ring. The precious stones are set in cool 14K white gold, while the faceted edges of the ring are constructed in warm 14K rose gold. This angular men's ring makes a thoroughly modern statement.
Size Chart
| Inches | Millimeter | U.S.A | Great Britain |
| --- | --- | --- | --- |
| 1.875 | 15.27 | 4.5 | I 1/2 |
| 1.9375 | 15.7 | 5 | J 1/2 |
| 2 | 16.1 | 5.5 | L |
| 2.0625 | 16.51 | 6 | M |
| 2.125 | 16.92 | 6.5 | N |
| 2.1875 | 17.35 | 7 | O |
| 2.25 | 17.75 | 7.5 | P |
| 2.3125 | 18.19 | 8 | Q |
| 2.375 | 18.53 | 8.5 | Q 1/2 |
| 2.4375 | 18.89 | 9 | R 1/2 |
| 2.5 | 19.41 | 9.5 | S 1/2 |
| 2.5625 | 19.84 | 10 | T 1/2 |
| 2.625 | 20.2 | 10.5 | U 1/2 |
| 2.6875 | 20.68 | 11 | V 1/2 |
| 2.75 | 21.08 | 11.5 | W 1/2 |
| 2.8125 | 21.49 | 12 | Y |
| 2.875 | 21.89 | 12.5 | Z |
| 2.9375 | 22.33 | 13 | |