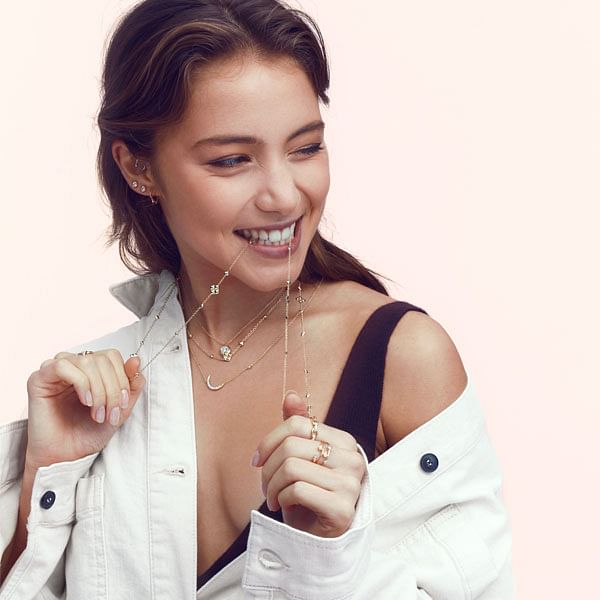 14K Yellow Gold Bezel Set White Sapphire Stud Earrings
14K Yellow Gold Graduating Pattern Huggies
36 inch 14K Yellow Gold Pyramid Quatrefoil Station Necklace
14K Yellow Gold Round Diamond Halo Pendant Necklace with Bezel Frame
14K Yellow Gold Pyramid Quatrefoil Station Necklace
14K Yellow Gold Crescent Moon Diamond Pendant Necklace
14K Yellow Gold Oval Chain Link Diamond Ring
14K Yellow Gold Tri Band Diamond Station Ring
Shop the collection
(8 items)
14K Yellow Gold Round Diamond Halo Pendant Necklace with Bezel Frame
$1,025
14K Yellow Gold Oval Chain Link Diamond Ring
$725
Delicately sculpted 14K yellow gold chain links adorn this unique fashion ring. Across the top of the ring, two shimmering links are encrusted with 0.06cts of pavé diamonds for an irresistible pop of sparkle.
14K Yellow Gold Tri Band Diamond Station Ring
$875
This enchanting layered Kaslique ring features three connected bands each constructed from polished 14K yellow gold for uncommon elegance. Sparkling stations in a variety of shapes showcase 0.09cts of brilliant accent diamonds.