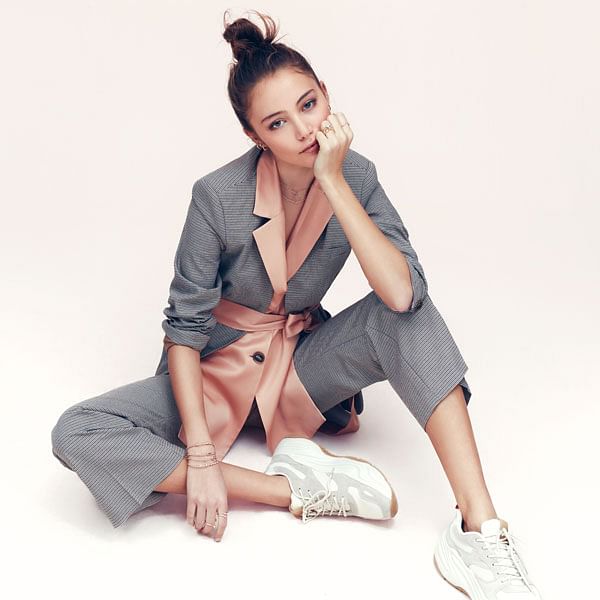 14K White Gold Triple Marquise Shape Diamond Station Stud Earrings
14K Yellow Gold Huggies with Three Diamond Stations
14K White Gold Pavé Diamond Flower Stud Earrings
14K Yellow Gold 15mm Chain Pattern Huggie Earrings
14K Yellow Gold Bujukan Bead and Diamond Stackable Ring
14K Yellow Gold Round Bezel Set Diamond Cluster Ring with Bujukan Beaded Shank
14K Yellow Gold Three Row Beaded Ring with Pavé Diamond Cluster Stations
14K Yellow Gold Chevron Diamond Ring
14K Yellow Gold Bujukan Bead Cuff Bracelet with Pyramid Stations
14K Yellow Gold Bujukan Bead Open Bangle
14K Yellow Gold Bujukan Bead Cuff Bracelet with Flower Stations
14K White-Yellow Gold Bujukan Bead Cuff Bracelet with Diamond Stations
14K Yellow Gold Diamond Chevron Ring
14K Yellow Gold Open Wrap Bypass Diamond Ring
Shop the collection
(14 items)
14K White Gold Triple Marquise Shape Diamond Station Stud Earrings
$430
14K Yellow Gold Bujukan Bead and Diamond Stackable Ring
$415
14K Yellow Gold Round Bezel Set Diamond Cluster Ring with Bujukan Beaded Shank
$475
14K Yellow Gold Three Row Beaded Ring with Pavé Diamond Cluster Stations
$875
Three shimmering round diamond clusters are stationed throughout this stylish ring providing 0.08cts of sparkle. The split shank band divided into three beaded strands is crafted from gleaming 14K yellow gold. Embrace an effortless layered look with this gorgeous gold and diamond ring.
14K Yellow Gold Bujukan Bead Open Bangle
$875
14K White-Yellow Gold Bujukan Bead Cuff Bracelet with Diamond Stations
$1,375
14K Yellow Gold Open Wrap Bypass Diamond Ring
$675
Crafted from gleaming 14K yellow gold, this Kaslique ring features an edgy open bypass silhouette. Dazzling 0.10ct pavé diamonds line the tapered ends of the ring for a sophisticated dose of sparkle.