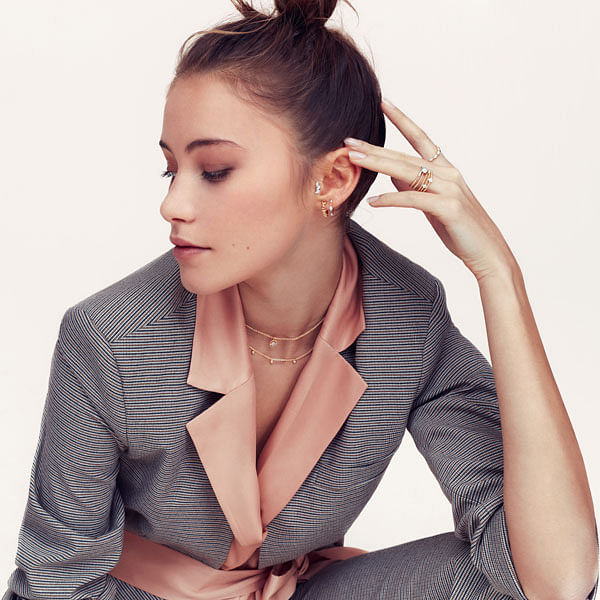 14K White Gold Triple Marquise Shape Diamond Station Stud Earrings
14K Yellow Gold 15mm Chain Pattern Huggie Earrings
14K Yellow Gold 15mm Diamond Station Huggies
14K Yellow Gold Chevron Diamond Ring
14K Yellow Gold Bujukan Bead and Diamond Stackable Ring
14K Yellow Gold Round Bezel Set Diamond Cluster Ring with Bujukan Beaded Shank
14K Yellow Gold Three Row Beaded Ring with Pavé Diamond Cluster Stations
14K Yellow Gold Beaded Round Floating Diamond Pendant Necklace
14K Yellow Gold Chain Necklace with Bujukan Bead Drop Stations
Shop the collection
(9 items)
14K White Gold Triple Marquise Shape Diamond Station Stud Earrings
$ 430
14K Yellow Gold Bujukan Bead and Diamond Stackable Ring
$ 415
14K Yellow Gold Round Bezel Set Diamond Cluster Ring with Bujukan Beaded Shank
$ 475
14K Yellow Gold Three Row Beaded Ring with Pavé Diamond Cluster Stations
$ 875
Three shimmering round diamond clusters are stationed throughout this stylish ring providing 0.08cts of sparkle. The split shank band divided into three beaded strands is crafted from gleaming 14K yellow gold. Embrace an effortless layered look with this gorgeous gold and diamond ring.
14K Yellow Gold Beaded Round Floating Diamond Pendant Necklace
$ 625
A cluster of .05ct round pavé diamonds sparkles at the heart of this delicate everyday necklace. A lustrous circle of beaded 14k yellow gold appears to float around the glittering diamonds. You'll never want to take this delicate fashion necklace off.