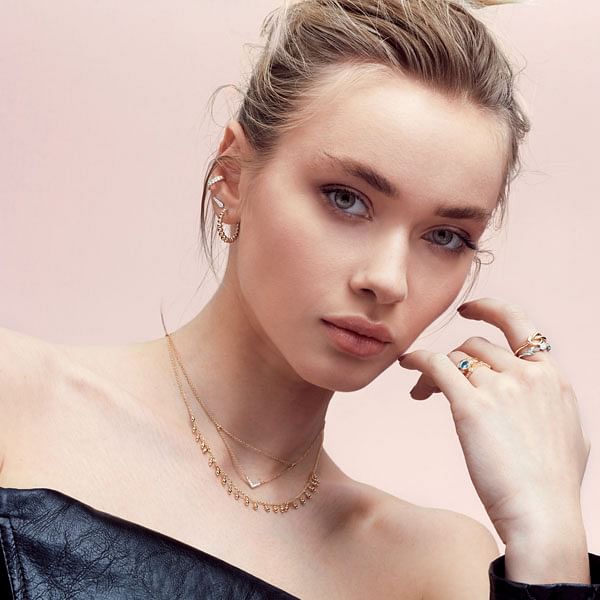 $345-$1,180
14K Yellow Gold Classic Diamond Ear Cuff Earring
14K Yellow Plain Gold 20mm Beaded Round Hoop Earrings
14K Yellow Gold Pavé Diamond Layered Chain V Necklace
14K Yellow Gold Bujukan Bead Station Necklace
14K Yellow Gold Twisted Heart Pretzel Ring
14K White Gold Floral Diamond Stackable Ring
14K Yellow Gold Three Row Beaded Round Blue Topaz Ring
Shop the collection
(7 items)
14K Yellow Gold Classic Diamond Ear Cuff Earring
$ 640
These charming diamond earcuffs are sparkling and stylish yet suitable for everyday wear.
14K Yellow Gold Pavé Diamond Layered Chain V Necklace
$ 630
A subtle and modern approach to everyday accessorizing. This 14k yellow gold style branches into two delicate chains, one of which is garnished with a 0.04ct pavé diamond chevron pendant. Master the layering game with a pre-layered necklace that's so easy to style.
14K Yellow Gold Twisted Heart Pretzel Ring
$ 345
Size Chart
| Inches | Millimeter | U.S.A | Great Britain |
| --- | --- | --- | --- |
| 1.875 | 15.27 | 4.5 | I 1/2 |
| 1.9375 | 15.7 | 5 | J 1/2 |
| 2 | 16.1 | 5.5 | L |
| 2.0625 | 16.51 | 6 | M |
| 2.125 | 16.92 | 6.5 | N |
| 2.1875 | 17.35 | 7 | O |
| 2.25 | 17.75 | 7.5 | P |
| 2.3125 | 18.19 | 8 | Q |
| 2.375 | 18.53 | 8.5 | Q 1/2 |
| 2.4375 | 18.89 | 9 | R 1/2 |
| 2.5 | 19.41 | 9.5 | S 1/2 |
| 2.5625 | 19.84 | 10 | T 1/2 |
| 2.625 | 20.2 | 10.5 | U 1/2 |
| 2.6875 | 20.68 | 11 | V 1/2 |
| 2.75 | 21.08 | 11.5 | W 1/2 |
| 2.8125 | 21.49 | 12 | Y |
| 2.875 | 21.89 | 12.5 | Z |
| 2.9375 | 22.33 | 13 | |
14K White Gold Floral Diamond Stackable Ring
$ 540
Size Chart
| Inches | Millimeter | U.S.A | Great Britain |
| --- | --- | --- | --- |
| 1.875 | 15.27 | 4.5 | I 1/2 |
| 1.9375 | 15.7 | 5 | J 1/2 |
| 2 | 16.1 | 5.5 | L |
| 2.0625 | 16.51 | 6 | M |
| 2.125 | 16.92 | 6.5 | N |
| 2.1875 | 17.35 | 7 | O |
| 2.25 | 17.75 | 7.5 | P |
| 2.3125 | 18.19 | 8 | Q |
| 2.375 | 18.53 | 8.5 | Q 1/2 |
| 2.4375 | 18.89 | 9 | R 1/2 |
| 2.5 | 19.41 | 9.5 | S 1/2 |
| 2.5625 | 19.84 | 10 | T 1/2 |
| 2.625 | 20.2 | 10.5 | U 1/2 |
| 2.6875 | 20.68 | 11 | V 1/2 |
| 2.75 | 21.08 | 11.5 | W 1/2 |
| 2.8125 | 21.49 | 12 | Y |
| 2.875 | 21.89 | 12.5 | Z |
| 2.9375 | 22.33 | 13 | |
14K Yellow Gold Three Row Beaded Round Blue Topaz Ring
$ 1,180
Size Chart
| Inches | Millimeter | U.S.A | Great Britain |
| --- | --- | --- | --- |
| 1.875 | 15.27 | 4.5 | I 1/2 |
| 1.9375 | 15.7 | 5 | J 1/2 |
| 2 | 16.1 | 5.5 | L |
| 2.0625 | 16.51 | 6 | M |
| 2.125 | 16.92 | 6.5 | N |
| 2.1875 | 17.35 | 7 | O |
| 2.25 | 17.75 | 7.5 | P |
| 2.3125 | 18.19 | 8 | Q |
| 2.375 | 18.53 | 8.5 | Q 1/2 |
| 2.4375 | 18.89 | 9 | R 1/2 |
| 2.5 | 19.41 | 9.5 | S 1/2 |
| 2.5625 | 19.84 | 10 | T 1/2 |
| 2.625 | 20.2 | 10.5 | U 1/2 |
| 2.6875 | 20.68 | 11 | V 1/2 |
| 2.75 | 21.08 | 11.5 | W 1/2 |
| 2.8125 | 21.49 | 12 | Y |
| 2.875 | 21.89 | 12.5 | Z |
| 2.9375 | 22.33 | 13 | |