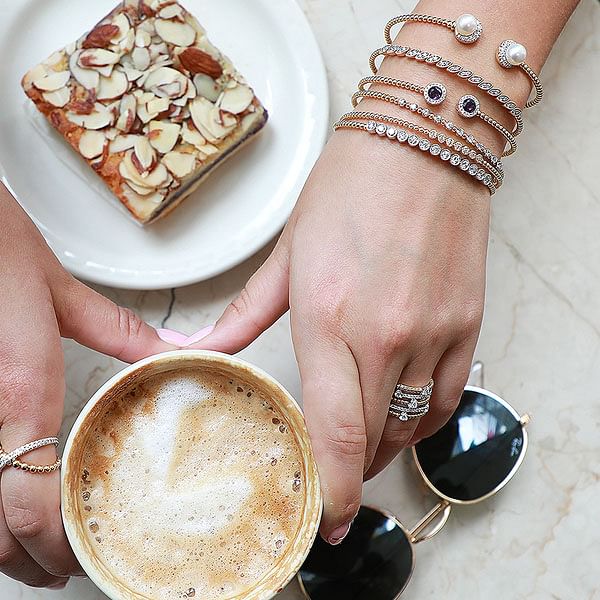 $1,035-$3,620
14K Yellow Gold Bujukan Split Cuff with Pearl and Diamond Halo Caps
14K Yellow Gold Bujukan Cuff Bracelet with Diamond Filled Marquise Stations
14K Yellow Gold Round Amethyst and Diamond Halo Bujukan Bangle
14K Yellow Gold Bujukan Bead Split Cuff Bracelet with Round White Gold Diamond Stations
14K Yellow Gold Bujukan Bead Cuff Bracelet with Cluster Diamond Stations
14K Yellow Gold Bujukan Cuff Bracelet with Bezel Set White Gold Diamonds
14K White-Yellow Gold Five Row Bujukan Ball and Diamond Station Ring
Shop the collection
(7 items)
14K Yellow Gold Bujukan Split Cuff with Pearl and Diamond Halo Caps
$ 1,705
Delicate bujukan beading encompass the foundation of this warm toned 14K yellow gold bangle. With minimal styling, the small bujukan beads lead the design to caps of classic pearls carefully cradled in 0.28 ct diamond halos. Accessorize with many timeless looks and highlight your effortless style with classic pearls and diamonds.
14K Yellow Gold Bujukan Cuff Bracelet with Diamond Filled Marquise Stations
$ 2,135
14K Yellow Gold Round Amethyst and Diamond Halo Bujukan Bangle
$ 1,200
With a minimal design of bujukan beading, this 14K yellow gold cuff style bracelet offers the warm tones of yellow gold beads. The subtle feature of this cuff is its gorgeous amethyst caps set within shimmering 0.15 ct diamond halos. Wear this proudly to showcase an air of passion with violet colors against golden bujukan beading.
14K Yellow Gold Bujukan Bead Split Cuff Bracelet with Round White Gold Diamond Stations
$ 1,750
14K Yellow Gold Bujukan Bead Cuff Bracelet with Cluster Diamond Stations
$ 1,035
The band on this 14K Yellow Gold Diamond Bangle bracelet is made up of tiny beads for a tactile and tasteful piece of jewelry. Seven enchanting pavé diamonds sit at the center and immediately draw the eyes of anyone around. These accent diamonds have .14cts to add a subtle sparkle to this comfortable and casual bracelet
14K Yellow Gold Bujukan Cuff Bracelet with Bezel Set White Gold Diamonds
$ 3,620
A smooth strand of beads and a centerpiece of sparkle are a match for the ages in this bold bangle. A slim strand of 14K yellow gold beads with an small opening between the ends make this a versatile piece that can go with anything. Across the top middle of the bracelet are 13 polished white gold stations. Inside each station is a millgrain framed diamonds 0.98ct in total for a bangle that you'll want to wear everywhere.
14K White-Yellow Gold Five Row Bujukan Ball and Diamond Station Ring
$ 2,435
Alternating bands of beaded 14K yellow gold and shimmering pavé diamonds set in cool 14K white gold adorn this layered fashion ring. Constructed as a single wide band, it offers the look of five rings in one. Finished with five round stations, this Bujukan ring boasts 0.56cts of diamonds.
Size Chart
| Inches | Millimeter | U.S.A | Great Britain |
| --- | --- | --- | --- |
| 1.875 | 15.27 | 4.5 | I 1/2 |
| 1.9375 | 15.7 | 5 | J 1/2 |
| 2 | 16.1 | 5.5 | L |
| 2.0625 | 16.51 | 6 | M |
| 2.125 | 16.92 | 6.5 | N |
| 2.1875 | 17.35 | 7 | O |
| 2.25 | 17.75 | 7.5 | P |
| 2.3125 | 18.19 | 8 | Q |
| 2.375 | 18.53 | 8.5 | Q 1/2 |
| 2.4375 | 18.89 | 9 | R 1/2 |
| 2.5 | 19.41 | 9.5 | S 1/2 |
| 2.5625 | 19.84 | 10 | T 1/2 |
| 2.625 | 20.2 | 10.5 | U 1/2 |
| 2.6875 | 20.68 | 11 | V 1/2 |
| 2.75 | 21.08 | 11.5 | W 1/2 |
| 2.8125 | 21.49 | 12 | Y |
| 2.875 | 21.89 | 12.5 | Z |
| 2.9375 | 22.33 | 13 | |