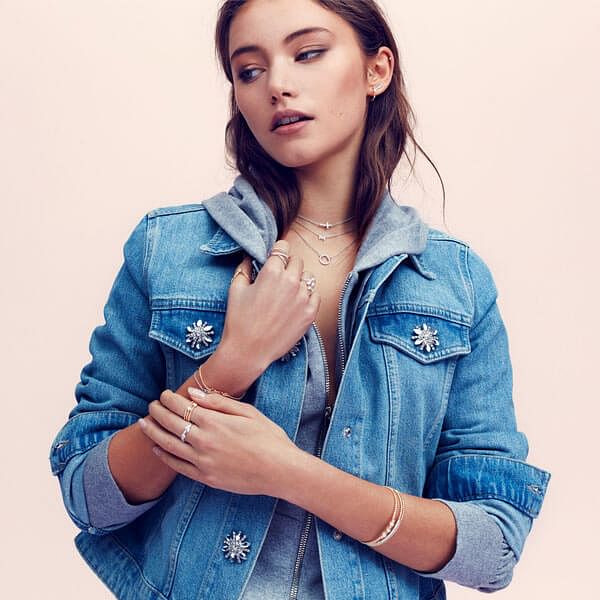 14K White Gold Elongated Diamond Bar Stud Earrings
14K Yellow Gold 20mm Classic Diamond Station Hoop Earrings
14K Yellow Gold Diamond Chevron Ring
14K White Gold Split Shank Pavé Diamond Wrap Ring
14K White Gold Teardrop Diamond Station Bypass Ring
14K Yellow Gold LOVE Chain Bracelet
14K White Gold Chain Bracelet with Pavé Diamond Heart
14K Yellow Gold Three Row Beaded Ring with Pavé Diamond Cluster Stations
14K White Gold Floral Diamond Stackable Ring
14K Yellow Gold Bujukan Bead Cuff Bracelet with Cluster Diamond Hexagon Stations
14K Yellow Gold Bujukan Split Cuff Bracelet with Diamond Pavé Bar
Split 14K Yellow Gold Beaded Bujukan Bangle
Shop the collection
(12 items)
14K White Gold Elongated Diamond Bar Stud Earrings
$550
Worn vertically or horizontally, these tapered 14k white gold stud earrings epitomize modern minimal chic. Columns of .06ct pavé diamonds ensure captivating sparkle. Wear them alone or pair with other delicate earrings for a fun fresh look.
14K Yellow Gold 20mm Classic Diamond Station Hoop Earrings
$775
14K White Gold Split Shank Pavé Diamond Wrap Ring
$775
Swirling strands of glittering 0.05ct pavé diamonds and polished 14K white gold wrap gracefully around the finger in this modern Kaslique ring. The split shank design creates a bold and eye-catching silhouette that's totally on-trend.
14K White Gold Teardrop Diamond Station Bypass Ring
$550
14K White Gold Chain Bracelet with Pavé Diamond Heart
$600
This white gold chain bracelet flaunts a graceful openwork diamond heart
14K Yellow Gold Three Row Beaded Ring with Pavé Diamond Cluster Stations
$875
Three shimmering round diamond clusters are stationed throughout this stylish ring providing 0.08cts of sparkle. The split shank band divided into three beaded strands is crafted from gleaming 14K yellow gold. Embrace an effortless layered look with this gorgeous gold and diamond ring.
14K White Gold Floral Diamond Stackable Ring
$625
14K Yellow Gold Bujukan Bead Cuff Bracelet with Cluster Diamond Hexagon Stations
$1,400
14K Yellow Gold Bujukan Split Cuff Bracelet with Diamond Pavé Bar
$1,625
This bangle bracelet is one of the more unique items in our collection. The space between each end is smaller to appear as if its one continuous loop. The beaded band comes together supporting the dazzling diamonds in the center. Impossibly tiny diamonds come together to create a look that celebrates the part and the whole. The closely-packed together diamonds look like a diamond that's been stretched out but, on closer look, you can see each individual diamond in all of its glory.
Split 14K Yellow Gold Beaded Bujukan Bangle
$825
Delicate and beautiful, this 14K Yellow Gold Bujukan beaded bracelet can be worn stacked with other bracelets or alone for a clean casual look.