Support the cause
By purchasing one of our Stronger Together Collection fine jewelry pieces, 100% of Gabriel's proceeds will be donated to Jewelers for Children's (JFC) charity partners.
Passion. Love. GabrielTM
By donating a portion of our profits to charities and philanthropic efforts, we are helping to improve life for those who are in need to a better future. With our own Gabriel Love Foundation® we want to continue this history and expand our charitable culture of doing good and giving back to others. Our focus is on supporting families, children and women rights and will partner with humanitarian organizations, as well as helping to fight cancer, diseases, and devastating negligence to children with our partner Jewelers for Children (JFC). Learn more about our efforts and join our programs.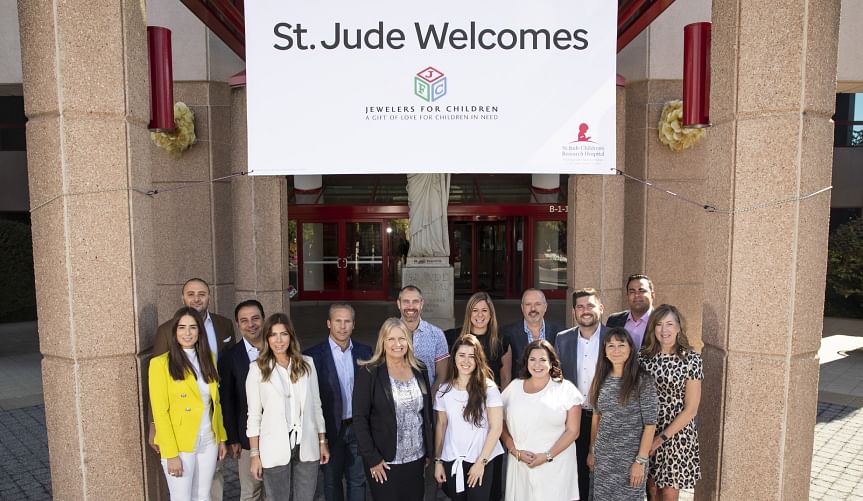 Discover the latest additions to our signature collections.
Jewelers for Children
Jewelers for Children
Jewelers for Children was founded in 1999 by the U.S. jewelry industry with the mission of helping children in need. Since its inception, JFC has donated more than $58 million to programs benefiting children whose lives have been affected by illness, abuse, or neglect through our charity partners St. Jude Children's Research Hospital®, the Make-A-Wish® America, the Elizabeth Glaser Pediatric AIDS Foundation, and the National CASA/GAL Association. JFC also provides support to the Make-A-Wish® International, the Organization for Autism Research and the Santa-America Fund. This nationwide success is due to the continuing generosity of jewelry trade organizations, jewelry and watch manufacturing companies, jewelry retail stores, individual jewelry professionals, and jewelry consumers.
JFC's goals are to unite the generous charitable giving efforts of the jewelry industry to support as many children in need as possible. The support from the jewelry industry has allowed for more than 1,940 children to be granted wishes in the U.S. and more than 12,000 to have their wish granted in India. More than 53,000 children in foster care have been helped with the support from the jewelry industry and more than 125,000 women have received support at clinics in developing countries. JFC's support has also provided for a bone marrow transplant unit, a chair in Genes and Genetic therapy and a stem cell transplant laboratory, all providing for hundreds of children to be treated for deadly cancers.
In 2020, more than 1,000 companies stepped up to become part of the industry's charity. JFC's success is achieved through the use of an extensive network of dedicated board members who are required to serve on committees and assist in involving more companies within the jewelry industry and increasing the amount of support we are able to provide to our charity partners. Jack Gabriel, CEO & Founder of Gabriel & Co. joined the JFC's Board of Directors committee in 2017. Gabriel & Co.is Premier Donator and Gabriel supported Jewelers for Children with their 91>19 bracelet during the pandemic and their on-going Stronger Together effort as well as many years of fundraising support.
Hope Collection
100% of Gabriel & Co. proceeds will be used to help programs benefiting children through the following Jewelers for Children charities: St. Jude Children Research Hospital®, Make-A-Wish®, the Elizabeth Glaser Pediatric AIDS Foundation, and the National CASA/GAL Association
WJA Foundation
WJA Foundation
The Women's Jewelry Association Foundation, Inc. is a 501(c)3 corporation created to support WJA's mission of providing educational opportunities that allow women to reach their full career potential. The Foundation accepts gifts from individuals and corporations that are used to fund the association's extensive scholarship and grant programs.
The centers are places to gather, study, and work. We pay the women to attend classes in the morning and embroider in the afternoon. Without this project, most have no means to educate themselves. Through Afghan Hands, they leave the walls of their compounds and attend seminars on basic human, legal, and religious rights. They prepare for work as free women do elsewhere in the world. This way, no one will ever imprison them in the name of law.
WJA - GABRIEL LOVE Foundation Student Scholarship
The WJA-Gabriel Love Foundation Student Scholarship in partnership with Gabriel & Co. is a $5,000 scholarship awarded to a deserving female student enrolled in design or non-design courses through a jewelry or metalsmithing program at an accredited college, university, or training school (between August 1, 2022 and July 31, 2023).
This scholarship has been established to help provide funding for students to achieve professional growth within the jewelry industry and in their communities at large. Consideration will be given to students who are able to clearly articulate a desire to participate in charitable efforts in the future or how they will use their career in jewelry to improve communities.
Application Period Closed
(Part of the student scholarship application & selection process)
March 1 - April 30, 2022
DKMS - We Delete blood cancer
DKMS - We Delete blood cancer
As the world's largest bone marrow donor center, DKMS motivates people to register as blood stem cell/bone marrow donors, giving patients all over the world a second chance at life. DKMS has offices in (7) countries; Germany, Poland, US, UK, Chile, India and South Africa and has over 11 million potential lifesavers registered. In 2022, DKMS celebrate a milestone of 100,000 second chances at life given worldwide.
DKMS Collection
A portion of the proceeds from each sale in our DKMS collection will go directly to the DKMS organization dedicated to the fight against blood cancer and blood disorders. DKMS will donate 100% of the proceeds to register potential bone marrow donors.
Spread life
Spread life
Spread Life is an independent non-profit organization spreading God's love to our communities and offering a hand of help to those in need. Their story began back in 2015 when Elie Raheb-Khallo and Dr. Jad Mrad took a personal initiative in providing to four families in Mount Lebanon district. The initiative was welcomed by devoted donors who contributed in expanding Spread Life mission to help more families in need. By the end of 2018, Spread Life was providing medical care to more than 50 families and to spread the message of God of joy and love.
In September 2019, Spread Life started providing daily meals for those in need. With the increase of poverty and unemployment in Lebanon, Spread Life initiated the Pantry program entitling beneficiaries to attain a monthly food subsidy. Today, Spread Life serves more than 160 families & 430 individuals distributed in Beirut, Mount Lebanon and Keserwan Districts and our service continue to grow to cater the needs of the poor and oppressed.
Learn More About Spread Life's Programs: https://spreadlife.org
Medical Program
The Medical program provides monthly medicine for chronic diseases such as blood pressure, heart, diabetes, etc. for individuals that cannot afford co...
More Details
Kitchen Program
The Kitchen program offers daily personalized meals under the supervision of Spread Life Dietitian, delivered to the door of each beneficiary. Partici...
More Details
Pantry Program
The Pantry program offers monthly food subsidy box containing all the necessary food ingredients for a family to survive for one month, such as Pasta,...
More Details
Afghan Hands
Afghan Hands
Afghan Hands is a non-profit organization that supports disadvantaged and disenfranchised women in Afghanistan to gain independence, education, and livable wages.
At our centers in and around Kabul, these women learn to create exquisitely embroidered shawls and scarves. Donations and proceeds from sales of the hand embroidered scarves are used to expand these education centers, which helps Afghan women connect to a wider world.
From style advice to helping you choose the perfect gift, our experts
are pleased to assist you in any way.