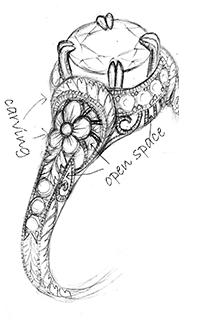 Customize Your Engagement Ring
Whatever your desire, Gabriel & Co. can create the ring you want in any head, style, stone or color combination. Why settle for the ordinary, when we can make your special one you'll always remember. Receive a rendering of your customized ring at your local Gabriel & Co. retailer.
HOW TO USE >>
Drag and drop your own reference images below or type in your favorite Gabriel ring style number you want to customize.
Terms & Conditions Policy
Announcement of CAD policy
At Gabriel & Co. we strive to improve dealer and consumer experience. Due to the volumne of requests from our values authorized dealers for special order CAD designs, we have introduced a new CAD policy effective July 7,2014 :
• First three CAD requests will be complimentary
• The fee for each additional request is $100
• Fee will be deducted from confirmed orders
Below is a form to assist you in collecting the information required to submit your CAD request.
We thank you for your continued support and wish you a successful summer season.